Happy Monday! And a happy back-to-school to many of you.
Speaking of academics – I'd like you to meet my fellow student, Ms. Daonne Huff…
[powerpress]
A graduate of Vassar College and now a Masters Candidate at NYU for Visual Art Administration, Ms. Huff is in the process of redefining (for herself) the boundaries of contemporary art – more inclusive of new media, social practice, and alternative space exhibitions. Isolde Brielmaier played a key role in forming Ms. Huff's path – by illustrating the contemporary application of an art historical education, and embodying all that a dynamic curator and administrator could be. This relationship grew from what began as student-teacher dynamic into the chance for Daonne to assist on many projects including the Elizabeth Catlett exhibition at the Bronx Museum of Art.
Daonne has a passion to bring out beauty from the fringes – learning from the work of artists who come from and/or work with the sociologically disenfranchised. During our time together we touch on the importance of mentorship, the sharing of knowledge and experience in order to inspire future generations, as well as acknowledging our own (very real) need for mentors within the trajectory of our careers. As the competition for work in the arts is as thick as ever, so is the need for training and vetting of strong female leaders.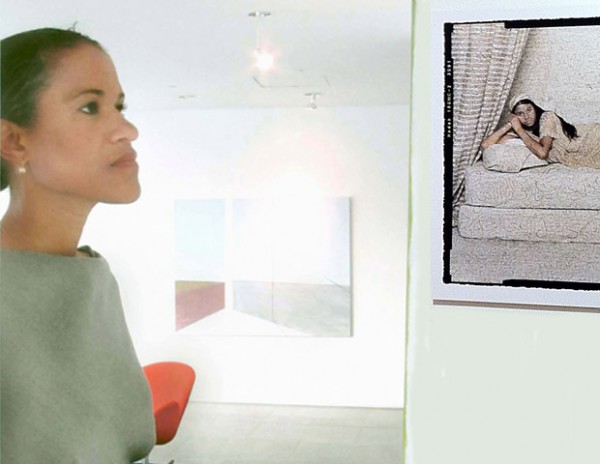 Pictured above is Isolde Brielmaier, Daonne's Mentor w/ a photograph by Lalla Essaydi.
Related Links:
Richard Meier Building
Theaster Gates
The Heidelberg Project
Laundromat Project
Theatre of the Oppressed
Brooklyn Museum
Keith Herring at the Brooklyn Museum
Bronx Museum
Detroit Institute of Art
Studio Museum of Harlem