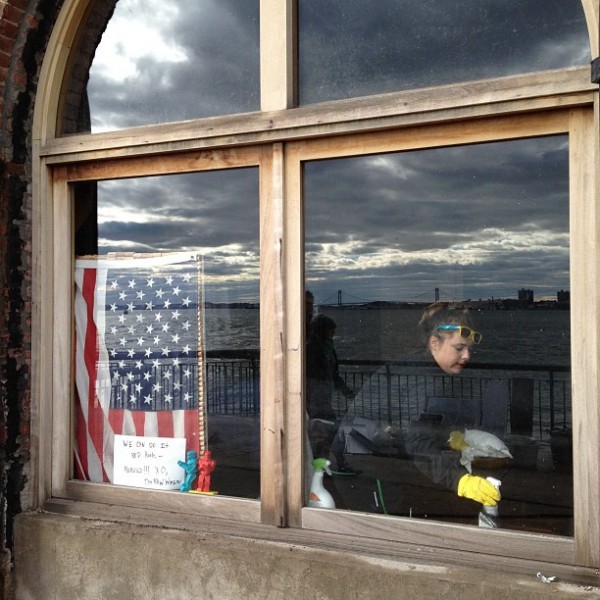 Since my last post, the ING Marathon was canceled, but I think that is ok. It was a disappointment, but seeing the rate of recovery – the city can't handle a big event like that one just yet. Although many out-of-town-ers already flew in for the event, it was determined to be too taxing of a venture to pull off. As many frenzied Facebook-ers suggested was an ideal answer – large numbers of runners spent their energy volunteering instead.
Sadly, several more deaths have been reported around the NE and on Staten Island shores, specifically. Desperate for resources, many are complaining that resources are not being appropriately allocated to the Staten Island community that was hard hit, instances of looting have been reported. They are not alone, with other neighborhoods remaining offline and wondering about the effects on the future livelihood local business.
For locals that were left un scathed the response is various – relaxing at home with Netflix, (as was joked about last night on SNL,) eating and drinking to excess at home, but even more numerous others have jumped at the opportunity to volunteer en mass to help their fellow NYers.
Some big Questions that remain:
Neighborhoods like Red Hook that were devastated have received overwhelming support, troves of volunteers, and resource drives from fellow Brooklynites; but with fewer resources immediately available on Staten Island – they are more reliant on official emergency programs like FEMA… So, are they getting what they need to recover?
For all the small businesses that exist along the shores – will they be able to recover or replaced by larger chains that have the capital to "weather the storm"?

Also fuel shortages throughout the city still require drivers to wait in extended lines, blocking traffic along stretches of several city blocks. Many gas stations now simply are closed for service having run out of fuel. This effects not only drivers from getting back to work, but also hinders volunteers from bringing resources into crippled communities. When will this begin to turn around?